Health & Safety
Keohane Readymix Ltd. recognises the important role that health and safety plays in our business and we are comitted to the safety and welfare of all our employees while at work and our customers while handling our products. Each of our employees have completed the safe pass course and manual handling training. Many have been certified in first aid. To help us provide a safer working environment, we have appointed an independent health and safety officer to visit sites on a regular basis.
We provide our employees with the necessary training, information, and personal protective equipment to carry out their work in the safest manner possible. As an active member of the Irish Concrete Federation, we have regular safety audits and we are constantly striving to improve our safety procedures to create a safer working environment.
Concrete products contain cement and other chemicals, which may cause skin damage. To avoid harm to skin, minimize contact with wet concrete products and wear suitable protective clothing. Where contact occurs (whether directly or through saturated clothing) wash thoroughly with water. In case of irritation or burns consult a doctor immediately.
Download our Material Safety Data Sheet here.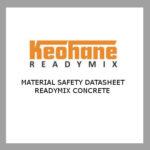 "ALWAYS PROTECT HANDS & EYES WHEN HANDLING CONCRETE"