Civil & Construction
At Keohane Readymix Limited we take great pride in the level and quality of service we provide to customers in the Civil & Construction industries.
Designed to Specification
We manufacture a variety of readymix concrete mixes using different recipes of cement, our own aggregates and sand, water and admixtures.  Mixes designed in our own in-house laboratories, we incorporate GGBS (Ground Granulated Blast Furnace Slag), fibres, pigment and air entrainment to improve performance and enhance other characteristics as specified.
Keohane Readymix manufactures to all specialised design requirements and meets all performance specifications producing high quality, durable concrete. We supply a range of mix designs from C8/10 to C80/95 with a range of different aggregate sizes. We also supply specialised pump mix concrete where a pump truck is required.
Ideally Located
The mainstay of our business, readymix concrete is produced at our Cork based production facilities from aggregates sourced in our own quarries at Dunmanway, Shannonvale, Rosscarbery and Innishannon. We are ideally located to service our growing customer base throughout the Cork city and county region.
First to Achieve IS EN 206
In mid-2006, Keohane Readymix Ltd. became the first Independent concrete manufacturer in the Republic of Ireland to attain the IS EN 206 accreditation. With this accreditation and as members of the Irish Concrete Federation, you can be assured of top quality every time.
Key Features & Benefits
Available in a wide range of strengths
Available in different aggregate sizes
Pump Mix accessible in a number of recipes
IS EN 206 accredited
Using Keohane Readymix Ltd in house high quality aggregate and sand
Great experience in large pours with 7 fully automated concrete batching plants, a large fleet of trucks and conveyors
A dedicated team fully committed to providing excellent service at all times
Guidance on mix design also available
Technical Specification
S EN 206 – Concrete Part 1: Specification, Performance, Production and Conformity
Project Specific Specifications
Download Technical Specifications
Customer Guidance on Concrete
Download our Customer Guidance on Concrete document for advice on the preparation, placement and curing of concrete.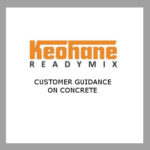 ICF Guidelines for Cold Weather
ICF Guidelines for Hot Weather
More Than Just Concrete
Keohane supplies a range of construction products including aggregate, sand & gravel, blocks and stone.
Some Recent Construction Projects
Civil & Construction Projects
Keohane Readymix has supplied concrete to a number of significant projects in the Cork area, some of which include:
The pharmaceutical industries in Cork lower harbour
The new pier wall at Union Hall; the new pier at Schull
Several bridges, Ballinhassig, Kinsale x 2, Skibbereen
Water reservoirs, sewage treatment plants and "LACON" floors
Several Hotels – The Celtic Ross, Inchydoney Lodge & Spa, The Kingsley, Actons Kinsale
Multi-story car parks – Cork and Clonakilty
Clonakilty Black Pudding building
Audi Showrooms, Bishopstown, Cork
Wind Turbine project near Drinagh
Retail stores throughout Cork County, such as Aldi
Service Stations, such as Maxol
State projects, such as The Department of the Marine building, Clonakilty
University projects, such as UCC building in Cork City
Drainage for the new Pairc Ui Choimh pitch; Fota and Cork Golf Clubs
Keohane Readymix is very busy with its current portfolio of projects and is looking forward to many more exciting projects in the future.