Keohane Readymix Concrete
A third-generation family business, Keohane Readymix Ltd. has built a reputation for being synonymous with supplying superior QUALITY products matched with unsurpassable CUSTOMER SERVICE.
Keohane Readymix is a leading Cork supplier of Readymix Concrete with a fleet of trucks, 7 batching facilities and a dedicated team under the guidance of a family run management team.
Designed to Specification
We manufacture a variety of readymix concrete mixes using different recipes of cement, our own aggregates and sand, water and admixtures.  Mixes designed in our own in-house laboratories, we incorporate GGBS (Ground Granulated Blast Furnace Slag), fibres, pigment and air entrainment to improve performance and enhance other characteristics as specified.
Keohane Readymix manufactures to all specialised design requirements and meets all performance specifications producing high quality, durable concrete. We supply a range of mix designs from C8/10 to C80/95 with a range of different aggregate sizes. We also supply specialised pump mix concrete where a pump truck is required.
Ideally Located
The mainstay of our business, readymix concrete is produced at our Cork based production facilities from aggregates sourced in our own quarries at Dunmanway, Shannonvale, Rosscarbery and Innishannon. We are ideally located to service our growing customer base throughout the Cork city and West Cork region.
Top Quality Every Time
In mid-2006, Keohane Readymix Ltd. became the first Independent concrete manufacturer in the Republic of Ireland to attain the IS EN 206 accreditation. With this accreditation and as members of the Irish Concrete Federation, you can be assured of top quality every time.
Key Features & Benefits
Available in a wide range of strengths
Available in different aggregate sizes
Pump Mix accessible in a number of recipes
IS EN 206 accredited
Using Keohane Readymix Ltd in house high quality aggregate and sand
Great experience in large pours with 7 fully automated concrete batching plants, a large fleet of trucks and conveyors
A dedicated team fully committed to providing excellent service at all times
Guidance on mix design also available
Technical Specification
S EN 206 – Concrete Part 1: Specification, Performance, Production and Conformity
Project Specific Specifications
Download Technical Specifications
Compliance
 Compression Strength Classes  

—

 Slump Tolerance

 Concrete




 Strength

Strength Classes –
Cylinder/Cube

 Class

Slump
Range 
Max Allowable Deviation
on Range Limit (mm)
 10N

–

 C8/10
 S1

–

 10 – 40

–

 0 – 60
 15N
 C12/15
 S2
 50 – 90
 30 – 110
 20N
 C16/20
 S3
 100 – 150
 80 – 170
 25N
 C20/25
 S4
 160 – 210
 140 – 230
 30N
 C25/30
 35N
 C28/35
 37N
 C30/37
 40N
 C32/40
 45N
 C35/45
 50N
 C40/50
 55N
 C45/55
 60N
 C50/60
Customer Guidance on Concrete
Download our Customer Guidance on Concrete document for advice on the preparation, placement and curing of concrete.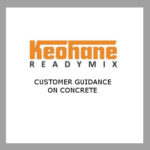 ICF Guidelines for Cold Weather
ICF Guidelines for Hot Weather
ICF Guidance for Specifiers & Manufacturers on I.S. EN 771-3: Aggregate Concrete Masonry Units
Dedicated Service
Our dedicated team of over 100 staff are all committed to providing professional and responsive service. Special requirements are always given consideration and will be accommodated where and if at all possible. We aim to ensure deliveries run as smoothly as possible, ensuring the best possible customer experience.
GET IN TOUCH
Contact us for advice and assistance on the Keohane Readymix Concrete quantity and mix best suited to your application.
Contact Us
Ballygurteen Office 023 883 8710
Inishannon Office 021 477 5599
or email [email protected]