Keohane Floor Screed
Keohane Readymix has introduced a new developed liquid floor screed into our product mix.  Our unique self-levelling floor screed can be used for all floor types.
Benefits of Keohane Floor Screed:
A reduction in shrinkage
Self-Compacting especially suited for underfloor heating
Quicker drying times
Minimum effort, quick and easily placed
No power floating required
Light traffic 24 hours after placement
Very high quality floor finish
Keohane Readmix will deliver and place high-quality Self-Levelling Screed direct to your building site. Self-Levelling Screed is quick, clean and cost effective. Ideal for flooring and especially underfloor heating.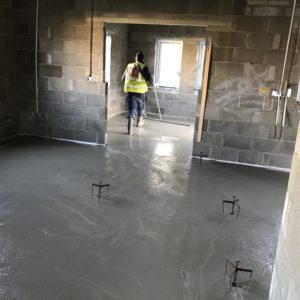 Why is Self-Levelling Screed Ideal for Underfloor Heating?
Self-levelling Screed is delivered and finished in one quick operation. It has additives that include polypropylene fibres, superplasticiser and a shrinkage inhibitor that work to ensure the prevention of future damage to underfloor heating pipes.
Why is Self-Levelling Screed So Suitable for Flooring?
The screed ensures a consistent quality in every floor and produces an excellent quality finish with minimum effort. The finished floor surface can receive timber, carpet, vinyl coverings or tile.
Other Significant Features
Because the self-levelling screed is quickly and easily placed, multiple rooms can be finished in one day. The depth of screed is nominally 60mm to 90mm in most cases. No power-floating of the floor is required. The floor can accept light traffic 24 hours after placement.
Watch Our Video
GET IN TOUCH
Contact us for advice and assistance on the quantity and mix of Keohane Floor Screed best suited to your application.
Contact Us
Ballygurteen Office 023 883 8710
Inishannon Office 021 477 5599
or email [email protected]