Technical Certification
I.S. EN 206 :2013 Concrete Specification, Performance, Production and Conformity, is the current Irish standard for the specification and production of ready-mixed concrete and should be used in conjunction with the Irish National Annex I.S. EN 206:2013/NA:2015. Copies of the standard are available for purchase from the N.S.A.I.
I.S. EN 206-1 places significant responsibility upon manufacturers of ready-mix concrete to demonstrate conformity to a series of specified requirements. Certified manufacturers are issued with a formal Certificate of Conformity by an independent certification body. I.S. EN 206-1 demands clarity on elements essential to quality, durability and consistency such as consistency of mix and grade or compressive strength class as it is defined in the Standard.
The Standard also explicitly addresses the following design elements:
Gathering information relating to structural and fire design;
Determining the intended working life;
Identifying relevant exposure classes;
Identifying other requirements for the concrete (e.g. aesthetic considerations; minimising cracking; coping with temperature extremes, etc.).
Click on any of the certificates listed below to download.
---
Sustainability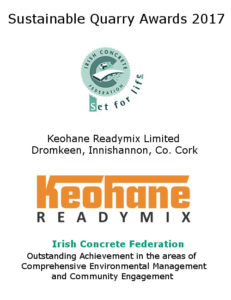 ---
Structural Aggregates
---
Concrete Aggregates
---
Enniskeane Concrete Products
---
Concrete Blocks
---
Readymix Concrete