Keohane Readymix Wins Environmental Best Practice Award
Keohane Readymix CEO Michael Keohane and Director Paudie Keohane, travelled to Brussels in November to attend the UEPG Sustainable Development Awards ceremony, where Keohane Readymix was delighted to receive recognition for excellence in the category of Environmental Best Practice.
Already very proud to be selected by the Irish Concrete Federation to represent Ireland at the UEPG awards, Keohane Readymix was delighted to be a recipient in this category. Keohane's plant at Dromkeen near Innishannon was singled out by judges as an "outstanding achievement in comprehensive management and community engagement."
The award is recognition of Keohane's ongoing commitment to achieving sustainability through best practice in their industry. "We're a family business, celebrating 40 years in operation this year. Our goal has always been to limit the impact of our operations on the environment and the local communities where we live and work," says Michael Keohane. "Receiving an Environmental Best Practice award is an achievement we're very proud of."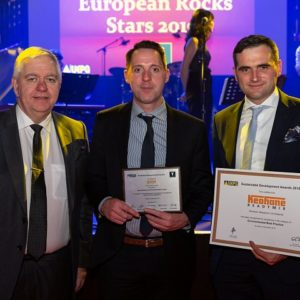 Pictured (l-r): Liam Smyth, Irish Concrete Federation, Michael Keohane and Paudie Keohane, Keohane Readymix.