Keohane Readymix is working hand-in-hand with Astra Construction Ltd. on Janeville a superb development of beautiful, high quality homes in Carrigaline, supplying all the concrete, blocks and aggregate for the build.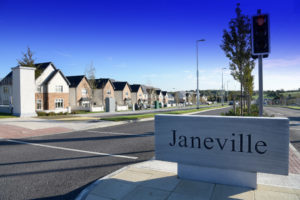 Located on the Cork side of Carrigaline, only minutes from Cork City centre, Ringaskiddy and Douglas Village, Janeville is the latest, and biggest project undertaken by Astra Construction to date.  Founded in 1985, Astra has built almost 2,000 houses, mostly around the Carrigaline area in south Cork.
Since they first turned the sod on this green field development in April 2016, Astra has completed a total of 160 new houses at Janeville, which comprise a mix of house sizes built to meet a wide mix of accommodation requirements and budgets; including 3- and 4-bed semis, 4-bed detached, and three-storey 4-bed and 5-bed homes, starting at a price of €290,000 up to €465,000.
The plan is to begin the next phase of development in 2020 of mainly 3- and 4-bed semi-detached houses at the northern side of the site, by the Shannon Park roundabout. Full planning was initially provided for 300 houses at Janeville and a detailed overall development masterplan brief for the site of 100 acres has been agreed with Cork County Council which will see up to 800 delivered in total, at an estimated development value of up to €300 million.
Adhering to stringent new laws, all Janeville homes are independently certified under the new BCAR System – Building Control Amendment Regulations – and all homes come with a 10-year guarantee provided by Homebond.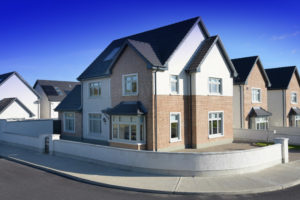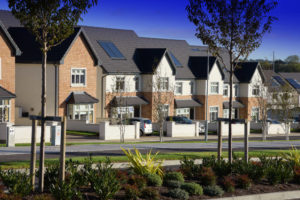 Keohane Readymix's reputation for high quality and excellent service makes us the ideal partner for Astra Construction on this project, who are required to adhere to strict new building regulations for all materials used in the build.
"Carrigaline is a great place to live, with so many schools, amenities and a vibrant town with the best of both urban and rural amenities and facilities on the doorstep," said Keohane Director Paudie Keohane. "In a time of housing shortages nationwide we are delighted to be involved in building these beautiful homes and no doubt they will be enjoyed by their proud new owners for many years to come."